German bomber planes came over the English channel, invading the UK airspace, crossed the coast and dropped bombs, killing and injuring loads of British people. Often they came up the Thames, from Leigh-on-Sea, following the river Thames towards London. In London, the bombing raids were relentless and went on night after night. This period was called the Blitz. The people of London, particularly in the docklands, suffered badly but were not defeated in sprit. They all did what they could to work as best they could and take shelter when the air raid sirens sounded.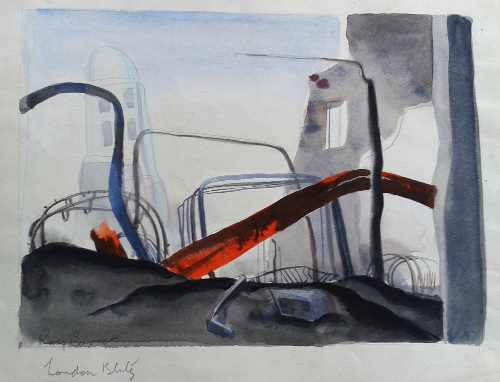 Bomb damage in the London Blitz
Roy was married to Violet Marian Steer. Brave soles like Roy and Marian worked as firemen and ambulance drivers. Sgt Marion was in charge of a fleet of ambulances at Holland Park ambulance Station. Her colleagues included Joyce and Peggy. Marian had large car (possibly a 6 cylinder Wolseley 14/60 (1938-41)) of her own. The ambulance Station had a Rolls Royce, with its rear half drastically modified to be a large box ambulance, as its mascot.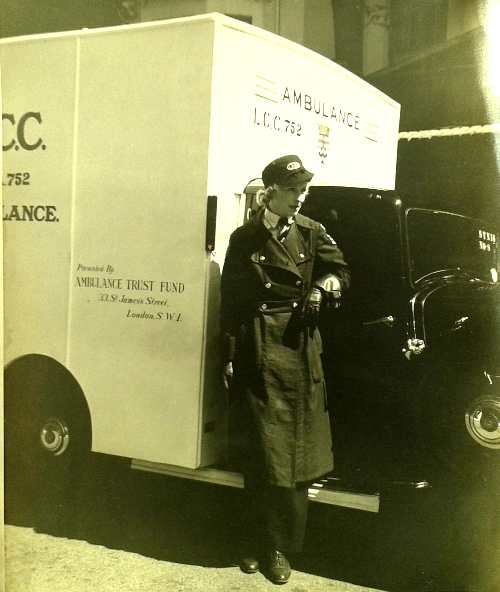 One of Sgt. Marian's ambulances in London during WW2
Roy initially worked as a fireman and observed some of the dreadful sights, in the aftermath of raids on the London docks.
Was this the baptism we awaited
Through the long dead years?
Was this the night; the apex of our hopes and fears?
Over the sombre leaded city
The red pall hung,
Dissolving its grey in crimson blood
Only we moved.
Only we moved about our earthbound circles.
In the punctuated calm
Hot with pinpoints in the sky.
On the populated flats the dream breaks true
Leaving each stunned mind in the determined twilight
With waking disillusion
And hope has fled from the ice-red dawn
And resurrected memory chilled in barren fire
Twisted iron in the cold slime.
Roy joined up to the fight against Germany, signing on to the Royal Air Force (RAF) in Jan 1943.
He trained initially as a pilot at No 33 Elementary Flying Training Schools (EFTS) at Caron, Saskatchewan, Canada, and qualified 19 March 1943 on single engine Tiger Moth and Cornell aircraft. He went on to train on twin engine Airspeed Oxford aircraft at Service Flying Training School (STFS) at Moose Jaw, Canada, in March/April 1943.
He then moved to a bombing and air gunnery course 17/5/43 - 9/7/43 at No. 6 School at Mountain View, Ontario. He got 47 yards bombing accuracy and an 85% pass. After that he went on an air navigation school from 29 Nov 1943 - 21 April 1944, coming almost top of the class (3rd out of 23) at No.9 AOS Ancienne Lorette at St Johns, Quebec. A short General Reconnaissance Course at No1 GRS followed from 25 May 44 to 27 May 44.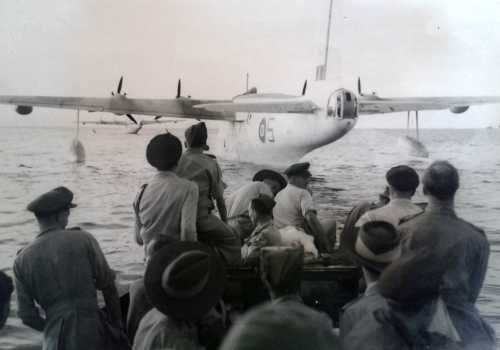 Preparing to board a Sunderland flying boat.
Somehow he ended being assigned operationally as Navigator to four engined S 25 Sunderland flying boats built by Short Brothers, Belfast, Northern Ireland, starting 29 Sept 1944, based at Oban Ganavan Sands, Scotland. A great adventure had started. Shipping, radar and anti-submarine patrols, with F/Lt C V Brown as captain, lasted till 31 Dec 1944. On one occasion they detected smoke on the horizon and found the Graff Zeppelin aircraft carrier accompanied by the Leipzig, Kohn and Emden cruisers.
His pilot was Charles Victor Brown 128450 RAFVR who was awarded the Air Force Cross in the London Gazette of 4th June 1946. His citation reads, "This officer, who is a pilot and captain of aircraft, commenced operational flying in 1941. After completing many varied operational missions, he joined his present squadron in July 1945 and, since then, he has been employed on transport duties between India and Singapore. On 29th September 1945, Flight Lieutenant Brown was detailed to transport ten nursing sisters to Singapore. The weather deteriorated during the flight and visibility became very bad. During one particularly heavy squall, two engines became unserviceable and the aircraft began to lose height rapidly. With great skill, this officer regained control and when only 150 feet from the water, he managed to restart both engines. Throughout this trying experience, Flight Lieutenant Brown displayed calm resolution and, by his initiative and fine airmanship, saved the lives of his passengers and crew". Please tell me, eric@satsig.net, if you know any surviving relatives of Charles Victor Brown.
Delivery of Sunderland PP159
In Jan and Feb 1944, Roy flew on four occasions, for air test and compass checks. Sunderland PP159 was declared fit to fly 15th March 1944. Leaving Oban on 25 March1944 they flew to Gibraltar, then to Sicily (Augusta), then Egypt (Fanara), then Khartoum, then Kenya (Kisumu) and finally Tanganyika (Dar-es-Salaam).
Roy, with his captain F/Lt C V Brown, then made their way back, as passengers, via Luxor, Cairo, Malta and Sardinia to Hendon (UK), arriving 19 April 1944.
Delivery of Sunderland NJ271
By 18 May 1944 Roy was at Killadeas, a small village in County Fermanagh, Northern Ireland, testing out Sunderland NJ271 which was passed as fit to fly 21 May 1944. The next trip appears to have been another delivery. They set off in NJ271 via Gibraltar, Sicily, Egypt, Irak, Bahrain to Korangi Creek, India where they left the plane and returned as passengers to Lynham (UK) in a Dakota KN442, arriving back 11th June 1944.
Delivery of Sunderland PP130
They must have gone by train to Alness, in Ross and Cromarty, Scotland, close to the Cromarty Firth. The next delivery was to take Sunderland PP130 to Korangi Creek, India, following the route Mt.Batten (Plymouth), Augusta, Fanara, Habbaniya, Bahrain to Korangi Creek.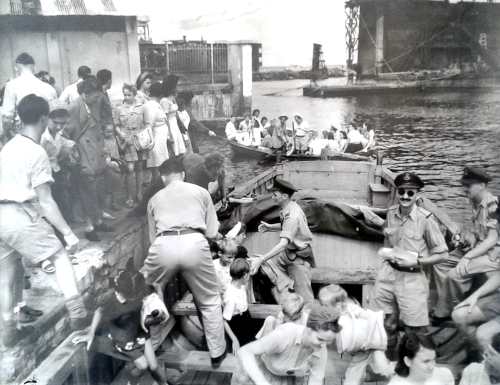 Loading Dutch refugees at Batavia, Java, for flight to Singapore.
There followed numerous trips, with 230 squadron, in the far east region, all with F/Lt Charles Victor Brown as pilot, presumed to be for the transport of goods and passengers. Locations: Korangi Creek, Redhills Lake, Rangoon, Singapore, Koggala, Penang, Selatar, Batavia, Labun, Hong Kong, Jesselton, Kudat, Sandakan, Lahad Datu, Tawao, Madras. Aircraft: Sunderlands: PP130, PP132, PP145, PP157, VB882, ML797. Catalina: JX413. F/O Arthur Edwards (b1920 Rotherham), was drowned after being dragged overboard by a mooring line from No.230 Squadron Sunderland V PP157 "S", at Seletar, Singapore, on 25 September, 1945. Arthur was a wireless operator / mechanic?. I have a tiny pencil sketch of him having a snooze. Please tell me, eric@satsig.net, if you know any surviving relatives of F/O Arthur Edwards.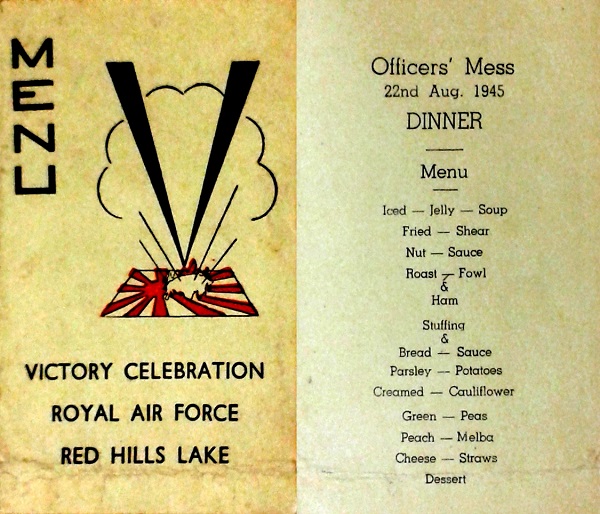 Victory celebration menu at Officers' Mess, Red Hills Lake, 22nd Aug 1945.
Example trips:
17 Sept to 19 Sept 1945 was from Redhills Lake to Singapore and back, bringing 9 POWs for repatriation plus their luggage. All were suffering from beri-beri and malnutrition.
25 Sept to 26 Sept 1945 was from Redhills Lake to Singapore and back, bringing 16 Indian Other Ranks or POWs for repatriation plus their luggage. All were suffering from beri-beri and malnutrition.
29 Sept 1945 trip to Singapore and back (returning 2 Oct) was more memorable as the two starboard engines failed due to foreign matter in the fuel and Roy's pilot Charles Victor Brown was commended for successfully restarting both engines and recovering the situation. On board were several Red Cross nurses.
Later, PP132 ran aground after alighting at Kai Tak, Hong Kong on 21 April 1946 and PP157 was damaged beyond repair on coral reef 19 Jan 1946.

People who served in WW2 were awarded medals. We are trying to confirm / verify the relevant medals for Roy Frederick Carnon. If anyone knows, please send pictures. His service number was 1396963 when pilot training in Canada. Best information so far: Africa Star, 1939-1945 Star, War Medal, Pacific Star, Defence medal. The images above are for illustration purposes only.
If you can add in any details, please send me your suggested text by email eric@satsig.net Images also welcome.
Page updated 22 Nov 2020, 19 Dec 2021.
---